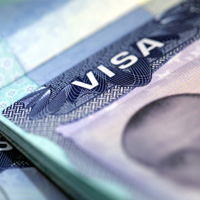 When an individual is granted a visa, it is not for an indefinite period of time. Even if you are granted the right to work and live in the U.S. for a time, it is vital that you be keenly aware of the expiration date on your visa. If you are facing certain challenges related to traveling to and from the U.S., a green card lawyer may be able to help.
Understanding Your Visa's Time Limits
Occasionally non-residents who are in the U.S. on visas are confused about their right to leave and return. Your visa has an expiration date; keep in mind that this is not the same as the length of time during which you are allowed to remain in the U.S. Rather, it indicates how long you are able to travel outside the country. Visas can be for as long as ten years, but more often they are granted for a lesser time, often five years.
Your green card lawyer will help you with any problems you have with your visa, but to understand your ability to travel abroad, the following must be taken into consideration:
Your visa's expiration date
The date stamped on your I-94
The expiration date on your passport
Your status' expiration
The number of times your visa allows you to leave and re-enter the U.S.
For Legal Assistance
If you are a nonimmigrant, your visa is granted for a limited time. For assistance with visas and other matters, call a green card lawyer at Ionson Law: (781) 674-2562.