David Ionson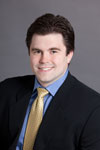 David Ionson holds a juris doctorate from Northeastern University, School of Law, and is licensed to practice law in the Commonwealth of Massachusetts and before the United States Tax Court.
Mr. Ionson also holds an MBA specializing in international business, operations management and entrepreneurship, and an M.S. degree in accounting, both from Northeastern; and a B.S. degree (magna cum laude) in criminal justice, with a minor in political science, also from Northeastern.
Mr. Ionson, served as general counsel and operations manager at Oncam Global Inc., a Lowell, Mass.-based total-security-solutions company covering the Americas, and was a paralegal and corporate tax intern at Raytheon Company, where he was responsible for the preparation of various tax-analysis memoranda related to corporate acquisitions, divestiture and restructuring. He also assisted the company's tax team in such international matters as the Oman tax structure, GST registration in Singapore and tax implications pursuant to the Status of Forces Agreement in Iraq.
As a legal intern at Deloitte Tax LLP, National Grid and the Massachusetts Department of Youth Services, Mr. Ionson assisted senior counsel and executive management in various legal tasks, including researching and preparing legal memoranda on functional and hyperinflationary countries and the use of DASTM. He also prepared draft administrative regulations and governmental policies, as well as prepared tort presentment responses and reviewed rights under various contracts and leases.
A paralegal working for BISYS Fund Service, where his clients' net assets exceeded $10 billion, Mr. Ionson was responsible and jointly accountable for various regulatory filings for a number of mutual funds, and was responsible for preparing and occasionally presenting materials to clients at board meetings.
When he worked as a paralegal at Barron & Stadfeld, P.C., Mr. Ionson successfully assisted and was jointly accountable for the preparation and closure of 130 commercial real estate transactions valued at more than $40 million.
For more than a decade, Mr. Ionson has been the operations manager of the Lexington, Mass.-based Hayden Recreation Centre, where, in addition to his responsibility for employee and customer relations, he also tutors and is an instructor of woodworking, martial arts, soccer, basketball and baseball. His organizational skills also have well served the YMCA of Cambridge, Mass., where he developed and implemented a sophisticated registration and financial tracking system.